I've been meaning to build a photo light box so I can take decent photos of my own gear, but I haven't gotten around to it yet, so I'm going to write this article and use product photos. Maybe I'll replace them later.
Shaw Island, WA
In a previous post I talked about how I plan for car camping trips. In this post, I'll detail what I actually take with me, what I don't, and why. I'm going to discuss in terms of car camping at a typical state or federal car campground, where each tent site has a picnic table and fire ring, and you at least have access to pit toilets and piped potable water. If you were heading to a dispersed campsite, you'd have to add consideration for where you'll poop (and how you'll bury it) and how you'll purify water from natural sources before drinking it.
My car camping trips are usually with a group of friends, and I tend to be one of the two with the most gear. Other people have their own tents and bags, but I usually contribute to the kitchen kit, a cooler, etc. We keep the meal choices pretty simple for 1-2 night trips, making sure we leave plenty of room in the cooler(s) for beer. I'm going to breakup my packing list into a few categories with these considerations in mind.
Shelter
The tent my wife and I use is the Big Agnes Fly Creek UL3 (shown above). This is a backpacking tent, intended to be ultralight. It is definitely overkill (cost-wise) for fair-weather car camping. For a car camping only tent, I might recommend something from Eureka or Coleman. Still, don't buy a palace. The point to is hang out outside the tent.
For sleeping bags, we again use the same bags we use for backpacking. I have a 20 degree down quilt called the Enlightened Equipment RevelationX 20. Again, it is backpacking gear, but it works fine at the car campground. My wife is a colder sleeper than me, and so she's got a the Marmot Pinnacle mummy bag, which is a warm 15 degree bag.
For sleeping pads, we both currently use the Big Agnes Insulated Air Core pads. These have a stated R-value of 4.2, so they are warm enough for year round use, and their tall height means I can sleep on my side and not have my kips or knees digging uncomfortably into the ground. Also, it never hurts to throw an old blanket in the car, either for extra padding in the tent, or to use around the campfire on chilly nights.
For weather protection when outside, I stick to tarps. There are expensive options for screen houses, but I've been fine even in the rainy PNW with just a tarp over the picnic table, so I think I'm crossing those shelters off of my "maybe I need this" list. It gets a little crowded around the table, but hard rain usually doesn't last long. Don't forget to bring a few 50-foot lengths of rope to help string up the tarp.
Furniture
It might seem like you shouldn't need a whole section on furniture for car camping, but when you've got a group of decent size, the picnic table seems small.
The table pictured above is the Coleman 4-in-1 Packaway Table. I love this thing. It has taken a beating for a few years now, being left out in the rain overnight, bbq'ing on top of it, using it to play cards on, and even using it at home as a prep table for bbq'ing. It is large enough that usually in camp I use one half as the table for my mini propane bbq, and the other half as food storage.
My other furniture is camp chairs. My favorite are these chairs from ALPS Mountaineering. They seem much more comfortable than the cheaper chairs out there and are really sturdy.
Storage
Before I get into the nitty gritty, I thought I'd mention storage. For car camping, my method is pretty much to take a few boxes directly from the closet to the car. I do cater the gear a little bit to each trip, trying not to overpack, but for the most part, my car camping kit is kept separately from my backpacking kit, so it is pretty quick to grab-and-go.
The best value in durable plastic storage containers that work in the closet and at the campsite are Action Packer containers from Rubbermaid. You can find them for better prices locally than online usually. I like the 24 gallon size for a catch-all box. I've left mine out in the rain overnight, and the contents stay dry. They are also strong enough to sit on, but probably not stand on.
For my kitchen kit, I use a small plastic toolbox with a removable tray. Its just large enough to fit everything. It is nice to keep all the kitchen gadgets near the picnic table in camp for convenience.
Outside of those containers, everything else is too large for a storage box anyhow, and just gets put in the car.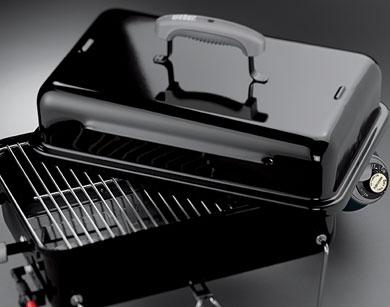 Kitchen
One of the main attractions of car camping, versus backpacking, it that you can go all cowboy-gourmet and cook some great food in in the woods. For me, I use the following:
I like to grill on propane, both at home and in the woods. It is convenient and quick, but admittedly not as cool as cooking over the campfire. My g
rill is a
Weber 1520 Go-Anywhere
. For extended stays, this
adapter
for a large propane tank is great because I don't need to buy and eventually recycle multiple smaller canisters.
Because I usually go with a group, I also bring two single burners. I bring this basic StanSport single burner which uses the small 1-pound propane tanks, and I also bring my retired backpacking canister stove, an MSR Pocket Rocket, and one 8oz fuel tank.
For pots/pans, I take a small square nonstick griddle, and a teapot. I usually only the use the teapot on the backpacking stove for coffee or tea in the morning. However, the the griddle works great on the bbq and the single burner. I've used the griddle on the bbq to cook bacon on the grill grates and eggs next to on the griddle. It's the reason I like the square pan. Square also makes sense for pancakes, as it makes it easier to pour four evenly-sized pancakes having the extra space on the corners. Done on the grill, I still get even heating across the pan.
For large groups, definitely disposable plates and cups, paper if possible, so that we can burn any paper garbage in the fire. Washing dishes is probably the least-favorite activity when camping, so we try and minimize it. When it is just my wife and I or a small group, I'll usually bring some plastic backpacking style dishware.
There are a number of items in my kitchen kit with obvious uses, so I'm going to switch to a bulleted list of all the other items which I take.
Cooler (go with 2 coolers if you drink lots of beer so the food stays cold longer)
GSI kitchen kit (spatula, ladle, whisk, shaker, sponge, towel)

Tongs

Spice kit holder (GSI Spice Missile)

BBQ lighter

Beer/wine key

BIC lighters

cooking spray

Water carriers (Platypus 1 gallon) and water bottles (usually Nalgene)

Paper Towels

Disposable plastic cutlery

Zip-Loc bags

Garbage bags

Bungee cords (for securing garbage bags)

Denatures alcohol (cheap insurance for starting wet firewood)

Small knife sharpener
Utility knife (Mora Force Sandvik)
Chef's knife (small MSR Alpine)

Cutting board

Large cup-bowls for mixing pancakes (GSI Fair-Share)

aluminum foil

propane tank(s) and canister stove fuel
First Aid & Toiletries
I like to play it safe, so I have a large kit from Adventure Medical Kits that I take car camping. It includes small doses of all sorts of medicines. I've added extra Moleskin, extra Neosporin, an emergency poncho, sunscreen, tampons, q-tips, hand sanitizer, bugs dope, allergy medication, after-bite safety pins, eye drops, earplugs, and a couple packets of Starbucks Via Instant Coffee (for the real emergencies). Also don't forget to add any necessary personal medications/prescriptions. It is a good idea to have a backup of items like inhalers too.
Toiletries vary person-to-person, but I stick to basics for car camping. I have (in travel sizes) a toothbrush, toothpaste, deodorant, body wash, qtips, toilet paper, hand sanitizer, wet wipes, floss, comb, chapstick, baby powder, sunscreen, hand lotion, a bandana, and a large camptowel.
Clothing
My clothing choices don't differ much from car camping to backpacking. I tend to bring the exact same thing. For long car camping trips, I'll bring a spare change of clothes in case I want to head into town one day and need to look presentable. But basically, my clothes are:
2 pairs lightweight wool or synthetic hiking socks

2 pairs boxer briefs

lightweight wool or synthetic long john pants

lightweight wool or synthetic long john top

hiking pants

synthetic short-sleeve shirt

lightweight polartech fleece quarter zip

synthetic fill insulating vest layer

rain shell

baseball cap

beanie

sunglasses
I'll bring my hiking shoes and sandals. I'll bring
basketball shorts for swimming or very warm weather.
Other GearThis category is everything else, gear-wise. It includes:
hatchet for making some kindling out of the firewood you purchased from the campground host (http://www.dontmovefirewood.org/)
maybe a lantern

for the campsite if you expect to be awake for long after dark

some playing cards and dice

a small pocket knife for whittling

a small notepad and pencil

local maps and a compass for dayhiking

fishing gear if applicable

a copy of your reservation

extra cash for firewood and incidentals where credit cards may not be accepted

frisbee, football, etc.

DON'T FORGET THE ICE
Food and Drink!
I know you've been waiting anxiously (or reading studiously) for this section, so here you go. Here's what I often bring for food/drink.
Breakfast
pancakes (bisquick) cooked on the griddle/grill

muffins from Costco + fruit (a nice easy no-cook morning)

eggs and bacon or sausage

french toast (texas toast+eggs+milk+cinnamon)

omelets
Lunch (just snack until dinner basically)
Salami and crackers and cheese

PB&J + chips

Hummus and veggies
Dinner
Burgers and dogs

Steak (ribeye or tri-tip) and sides of salad and instant potatoes

Tacos (beans, beef, veggies, tortillas)

Dinty Moore beef stew and cornbread

Pasta night with salad and garlic bread
Dessert
Nutella and graham crackers

S'mores

Justin's nut butters on white bread

Cinnamon rolls
Drinks
beer
wine
bourbon
OJ
beer
Starbucks Via Instant Coffee
Water
beer
I think I covered just about everything I might bring on a weekend car camping trip. I hope anyone who got this far enjoyed it.